Clinical Science
Indications for operation and results from surgical treatment of vesicoureteral reflux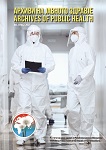 Published 2021-11-20
Keywords
vesicoureteral reflux

,

open surgery

,

uropathy

,

pediatric urology
How to Cite
1.
Ceku G, Petrovski M, Memeti S, Hyseni N, Statovci S, Berisha B. Indications for operation and results from surgical treatment of vesicoureteral reflux. Arch Pub Health [Internet]. 2021 Nov. 20 [cited 2023 Dec. 9];13(2):110-9. Available from: https://www.id-press.eu/aph/article/view/6009
Copyright (c) 2021 Gani Ceku, Mile Petrovski, Shaban Memeti, Nexhmi Hyseni, Sejdi Statovci, Blerim Berisha
This work is licensed under a Creative Commons Attribution 4.0 International License.
Abstract
The main objective of this retrospective study was to evaluate the value of surgical approach in the treatment of children with vesicoureteral reflux (VUR). Material and method: The study was conducted in the period from January 2006 to December 2014, and included children with symptomatic VUR, who were surgically treated. A total of 72 children were treated, of whom 56 were females and 16 were males, aged between 2 and 16 years. They were treated with IV and V grade reflux ureters. Thirty-two of the unilateral refluxes were left-sided, 18 right-sided and 22 both-sided. VUR was diagnosed with Voiding cystourethrography (VCUG). Cohen technique was performed in 64 (90%) patients, Politano-Lead better technique in 4 (5%) patients and Lich-Gregoir technique in 4 (5%) patients. Results: Out of the 72 treated patients, 69 had a postoperative negative finding of VUR on the performed VCUG, indicating a high 95% success rate. In three girls, persistent postoperative reflux was found in postoperative VCUG. In the first patient persistent VUR was unilateral, of  V grade. In the second patient, a third-degree VUR was found and the third patient was diagnosed with II grade VUR. Postoperatively, non-febrile UTIs (urinary tract infections) were diagnosed in 23 patients (20 female children and 3 male children) out of 72 patients in total. One female child was hospitalized with febrile UTI and 8 patients or 10% developed febrile UTI within one year of the operative treatment. Conclusion: Open surgery, despite excellent results, is used for more complicated cases, VUR grade IV – V or in previously failed cases, and it does not appear to provide definitive correction of VUR in all patients and does not prevent certain low incidence of UTI postoperatively. Non-febrile UTIs can occur several years after a surgical correction. Endoscopic treatment is an alternative treatment for VUR
Downloads
Download data is not yet available.
References
Bailey R R. Vesicoureteric reflux in healthy infants and children. In: Reflux nephropathy, p. 59. Edited by Hodson J, Kincaid-Smith P. Masson, New York 1979.
Sargent MA. What is the normal prevalence of vesicoureteral reflux? Pediatr Radiol 2000; 30:587–593 DOI: https://doi.org/10.1007/s002470000263
Skoog SJ, Peters CA, Arant BS Jr, Copp HL, Elder JS, Hudson RG et al. Pediatric vesicouretral reflux guideline panel summary report: clinical practice guidelines for screening siblings of children with vesicoureteral reflux and neonates/infants with prenatal hydronephrosis. J Urol 2010; 184 (3):1145–1151 DOI: https://doi.org/10.1016/j.juro.2010.05.066
Zerin JM, Ritchey ML, Chang AC. Incidental vesicoureteral reflux in neonates with antenatally detected hydronephrosis and other renal abnormalities. Radiol 1993; 187:157–160 DOI: https://doi.org/10.1148/radiology.187.1.8451404
Elder JS, Peters CA, Arant BS, Ewalt DH, Hawtrey CE, Hurwitz RS et al. Pediatric vesicoureteral reflux guidelines panel summary report on the management of primary vesicoureteral reflux in children. J Urol 1997;157:1846–1851. DOI: https://doi.org/10.1016/S0022-5347(01)64882-1
Willemsen J, Nijman RJ. Vesicoureteral reflux and videourodynamic studies: results of a prospective study. Urology 2000; 55:939. DOI: https://doi.org/10.1016/S0090-4295(00)00549-5
American Academy of Pediatrics. Practice parameter: the diagnosis, treatment, and evaluation of the initial urinary tract infection in febrile infants and young children. Pediatrics 1999;103(4):843 – 52 DOI: https://doi.org/10.1542/peds.103.4.843
Jakobsson B, Soderlundh S, Berg U. Diagnostic significance of 99mTc dimercaptosuccinicacid (DMSA) scintigraphy in urinary tract infection. Arch Dis Child 1992;67(11):1338 – 42. DOI: https://doi.org/10.1136/adc.67.11.1338
The American Urological Association. The management of primary vesicoureteral reflux in children.1997; 9-15.
Duckett JW, Bellinger MF. A plea for standardized grading of vesicoureteral reflux. Eur Urol 1982; 8(2):74-7.
Duckett JW, Bellinger MF. International classification of Vesicoureteral reflux (11) A plea for standardized grading of vesicoureteral reflux. Eur Urol 1982; 8(2):74-7. DOI: https://doi.org/10.1159/000473484
Glenn JF, Anderson EE. Distal tunnel ureteral reimplantation. J Urol 1967;97:623–626. DOI: https://doi.org/10.1016/S0022-5347(17)63089-1
Retik AB, Colodny AH, Bauer SB. Genitourinary surgery. Pediatric urology 1984; 2: 764.
Hutch JA. Vesicoureteral reflux in the paraplegic: cause and correction. J Urol 1952; 68:457–469 DOI: https://doi.org/10.1016/S0022-5347(17)68223-5
Lich R Jr R, Lonnie WH, Lawrence A.D. Recurrent urosepsis in children. J Urol 1961;86:554–558. DOI: https://doi.org/10.1016/S0022-5347(17)65219-4
Gregoir W, Regemorter G. Le reflux vesico-ureteral congenital. Urol Int. 1964;18:122–136. DOI: https://doi.org/10.1159/000279233
Riedmiller H, Gerharz EW. Antireflux surgery: Lich-Gregoir extravesical ureteric tunneling. BJUI 2008;101:1467–1482. DOI: https://doi.org/10.1111/j.1464-410X.2008.07683.x
Politano VA, Leadbetter WF. An operative technique for the correction of vesicoureteral reflux. J Urol 1958;79:932–941. DOI: https://doi.org/10.1016/S0022-5347(17)66369-9
Steffens J, Stark E, Haben B, Treiyer A. Politano-Leadbetter ureteric reimplantation. BJUI 2006;98:695–712. DOI: https://doi.org/10.1111/j.1464-410X.2006.06407.x
Cohen SJ. Uretozystoneostomie: eine neue antireflux Technik. Aktuelle Urol 1975;6:1.
Stenberg A, Lackgren G. A new bioimplant for the endoscopic treatment of vesicoureteral reflux: experimental and short term clinical results. J Urol 1995; 154(2): 800–3. DOI: https://doi.org/10.1016/S0022-5347(01)67168-4
Sung J, Skoog S. Surgical management of vesicoureteral reflux in children. Pediatr Nephrol 2012; 27(4): 551–61
Baskin L, Kogan B. Handbook of Pediatric Urology. Lippincott Williams & Wilkins Philadelphia, 2005
O'Donell B, Puri P. Endoscopic correction of primary vesicoureteral reflux: results in 94 ureters. BMJ (Clin Res Ed) 1986; 293(6559): 1404–6. DOI: https://doi.org/10.1136/bmj.293.6559.1404
Khouri EA, Darius JB. Vesicoureteral reflux. In: Wein AJ, Kavoussi LR, Novick AC, Partin AW, Peters CA, eds.Campbell-Walsh Urology: Expert Consult Premium Edition. 10th ed. USA: Elsevier Saunders;2011.3267-310.
Hubert KC, Kokorowski PJ, Huang L, et al. Durability of antireflux effect of ureteral reimplantation for primary vesicoureteral reflux: findings on long-term cystography. Urology 2012;79(3):675-679. DOI: https://doi.org/10.1016/j.urology.2011.11.005
Jodal U, Smellie JM, Lax H, Hoyer PF. Ten-year results of randomized treatment of children with severe vesicoureteral reflux. Final report of the international reflux study in children. Pediatr Nephrol 2006;21:785e92 DOI: https://doi.org/10.1007/s00467-006-0063-0
Sung J, Skoog S. Surgical management of vesicoureteral reflux in children. Pediatr Nephrol. 2012; 27(4): 551–61. DOI: https://doi.org/10.1007/s00467-011-1933-7