Case Report
Benign transient hyperphosphatasemia - a cause for alarm or a benign condition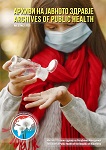 Published 2020-12-15
Keywords
alkaline phosphatase

,

hyperphosphatasia

,

benign

,

transient
How to Cite
1.
Stamatova A, Fustic S, Spirevska L, Mojsova S, Tonevski V. Benign transient hyperphosphatasemia - a cause for alarm or a benign condition. Arch Pub Health [Internet]. 2020 Dec. 15 [cited 2022 Oct. 2];12(3):86-90. Available from: https://www.id-press.eu/aph/article/view/5610
Abstract
Benign transient hyperphosphatasemia (BTH) is a condition which occurs in children younger than five years, characterized by a complete absence of specific clinical and laboratory findings of bone or liver diseases and a five or even 20–70-fold increase in serum of alkaline phosphatase levels(ALP). The aim of this case report was to point out that elevated levels of ALP are not always related to serious bone and liver diseases. We described three healthy patients, which were referred to our out-patient clinic by their primary care physicians because of markedly elevated levels of ALP. The diagnosis of BTH was based on a thorough physical exam, a wide range of laboratory and imaging tests, which excluded liver or bone disease as a cause for elevated ALP. BTH is not very well-known and managed in daily clinical practice. Primary care physicians should consider this diagnosis in cases with elevated ALP in otherwise healthy infants and toddlers, refrain from unnecessary tests, prescribing higher doses of vitamin D3 or referral to tertiary level pediatric institutions. 
Downloads
Download data is not yet available.
References
1. Ridefelt P, Gustafsson J, Aldrimer M, Hellberg D. Alkaline phosphatase in healthy children: reference intervals and prevalence of elevated levels. Horm Res Paediatr 2014; 82(6): 399-404.
2. Pace AE, Osinde ME. Hiperfosfatasemia transitória benigna de la infância. Uma aproximación diagnóstica racional. Arch Argent Pediatr 1999;97:383-90.
3. Melo MCN, Carneiro NB, Tolaymat N, et al. Hiperfosfatasemia transitória benigna na infância. Rev Cienc Med Biol 2004;3:108-14.
4. Tolaymat N, de Melo MC. Benign transient hyperphosphatasemia of infancy and childhood. South Med J 2000;93:1162–4.
5. Bach U; Das verhalten der alkalischen serumphosphatase bei Frughgerborenen. Rachitikern und Spasmophilen. Z Kinderheilk 1954; 74: 593-609.
6. Suzuki M, Okazaki T, Nagai T, Törõ K, Sétonyi P. Viral infection of infants and children with benign transient hyperphosphatasemia. FEMS Immunol Med Microbiol 2002; 33(3): 215–8.
7. Carroll AJ, Coakley JC. Transient hyperphosphatasaemia: an important condition to recognize. J Paediatr Child Health 2001;37:359–6.
8. Kutilek S, Cervickova B, Bebova P, Kmonickova M, Nemec V. Normal bone turnover in transient hyperphosphatasemia. J Clin Res Pediatr Endocrinol 2012; 4(3): 154-156.
9. Otero JL, Gonzalez-Peralta RP, Andres JM, Jolley CD, Novak DA, Haafiz A. Elevated Alkaline Phosphatase in children: an algorithm to determine when a "wait and see" approach is optimal. Clin Med Insights Pediatr 2011; 5:15-8.
10. Kraut JR, Metrick M, Maxwell NR, Kaplan MM. Isoenzyme studies in transient hyperphosphatasemia of infancy: ten new cases and a review of the literature. Am J Dis Child 1985; 139(7): 736-40.
11. Chu AS, Rothschild JG. Update on benign transient hyperphosphatasemia: recognizing an underappreciated condition. Clin Pediatr (Phila) 2016; 55(6): 564-6.
12. Gualco G, Lava SA, Garzoni Let al. Transient benign hyperphosphatasemia. J Pediatr Gastroenterol Nutr 2013; 57(2): 167-71.
13. Asanti R, Hultin H, Visakorpi JK. Serum alkaline phosphatase in healthy infants: occurence of abnormality high values without known cause. Ann Paediatr Fenn 1966; 12(2): 139-42.