Clinical Science
Prevalence of carotid artery disease in patients with metabolic syndrome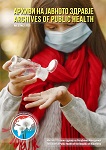 Published 2020-12-15
Keywords
carotid artery disease

,

cerebrovascular insult

,

transient ischemic attack

,

metabolic syndrome
How to Cite
1.
Deleva-Stoshevska T. Prevalence of carotid artery disease in patients with metabolic syndrome. Arch Pub Health [Internet]. 2020 Dec. 15 [cited 2023 Dec. 4];12(3):46-52. Available from: https://www.id-press.eu/aph/article/view/5416
Abstract
There is a growing body of scientific evidence on the impact of metabolic syndrome (MetS) on the progression of atherosclerosis, imposing the need for research of the association of MetS with carotid artery disease (CAD) as a significant risk factor for cerebrovascular insult (CVI) and transient ischemic attack (TIA). The aim of the study was to determine the prevalence of CAD as a risk factor for CVI and TIA in subjects with MetS. Material and methods: A cross-sectional study was performed including a total of 118 subjects, 65 men, 53 women, with MetS according to NCEP ATP III criteria that were analyzed clinically, biochemically and ultrasonographically in the City General Hospital "8th September" - Skopje in the period from January 2017 to January 2018. Waist circumference, blood pressure, glycemia, triglycerides, and HDL cholesterol were determined according to standard routine protocols. The evaluation of the extracranial carotid trunk was done with a Color Doppler Duplex sonography with a linear probe of 7.5MHz. CAD assessment was performed using Ultrasound Consensus Criteria for Carotid Stenosis. An objective neurological assessment of the existence of CVI and TIA was performed by a standard protocol for neurological examination and brain CT results from medical history were reviewed. Results: The prevalence of CAD in this study was 77 subjects (65.25%), of which 35 subjects (29.66%) had symptomatic CAD, 17 subjects (48.57%) had CVI, 18 subjects (51.43%) had TIA. Regarding the degree of carotid artery stenosis (CAS) in the total number of subjects with MetS and CAD, no subjects with normal findings were registered, 16 subjects had stenosis <50% , 29 subjects had stenosis 50-69% , 23 subjects had stenosis 70-99% , while 9 subjects had occlusion. Conclusion: The results obtained in this study have shown that asymptomatic CAD is dominant in patients with MetS, which further imposed the need for timely extracranial ultrasonographic evaluation of the carotid trunk. This would achieve both effective prevention and adequate treatment of CVI and TIA, thereby reducing morbidity and mortality from cerebrovascular events which has a great health and socioeconomic significance.
Downloads
Download data is not yet available.