Clinical Science
Clinical characteristics of COVID-19 in children at the Institute for Pulmonary Diseases in Children-Skopje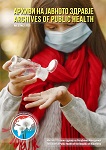 Published 2020-12-15
Keywords
COVID-19

,

pulmonary disease

,

children

,

real-time reverse transcription polymerase chain reaction

,

macrolides
How to Cite
1.
Jakovska Mareti Т, Andonovski A, Stojanova E, Kakaraskoska-Boceska B. Clinical characteristics of COVID-19 in children at the Institute for Pulmonary Diseases in Children-Skopje . Arch Pub Health [Internet]. 2020 Dec. 15 [cited 2023 Dec. 4];12(3):39-45. Available from: https://www.id-press.eu/aph/article/view/5413
Abstract
The aim of the paper was to evaluate clinical characteristics of COVID-19 in children and the success of the treatment. Material and methods: The study included 218 pediatric patients suspected for COVID-19 hospitalized at the Institute for Pulmonary Diseases in Children-Skopje, during the period from 16th of March to 19th of June 2020. All patients were tested for presence of SARS-CoV-2 virus in nasopharyngeal swab with real-time reverse transcription polymerase chain reaction (RT-PCR) in the Institute of Public Health of Republic of North Macedonia. Clinical symptoms, X-ray and laboratory findings were included in the study. Results: From 218 hospitalized patients, only 9 (4.13%) were positive for COVID-19 and 59% of them were males. Infants, with moderate pulmonary disease were 44.4% of the patients. Fever and gastrointestinal symptoms were present in 66.6% and 22.2% of the children, respectively. Macrolides were therapy of choice in 88% of the treated patients, 77% received intravenous therapy, 33% were on inhaled bronchodilator. Conclusions: A small number of children had COVID-19. All infected children were with mild to moderate pulmonary symptoms and reacted satisfactory to the treatment. However, the importance of transmitting the virus and influence over children's health remains uncertain.
Downloads
Download data is not yet available.