Public Health
Identification of the microflora from the oral cavity of exotic snakes kepth as pets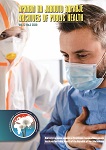 Published 2020-07-16
Keywords
non-venomous snakes

,

pets

,

oral cavity

,

microbiome
How to Cite
1.
Naumovski M, Jovanovska I, Popovska K, Velikj Stefanovska V, Mirchevska G. Identification of the microflora from the oral cavity of exotic snakes kepth as pets. Arch Pub Health [Internet]. 2020 Jul. 16 [cited 2023 Dec. 4];12(2):56-63. Available from: https://www.id-press.eu/aph/article/view/5272
Abstract
In recent years, snakes have become suitable pets for people with little spare time. By buying these animals people ignore the fact that they carry many microorganisms that are pathogenic for humans. The idea of ​​this study was to identify the microorganisms from the oral cavity of exotic snakes kept as pets in the Republic of North Macedonia, which can help in the treatment of bite infections if they occur. The study comprised 30 snakes of 9 species, from 3 families of non-venomous snakes: Pythonidae, Boidae and Colubridae. Snakes are part of the 5 largest collections of exotic snakes in the Republic of North Macedonia. Only one swab from the oral cavity was taken from each snake. The brushes were cultured and microscopically analyzed at the Institute of Microbiology and Parasitology at the Faculty of Medicine in Skopje. From 59 isolated microorganisms from the oral cavity of 30 exotic snakes, 37.3% were Gram-positive bacteria, 61.01% were Gram-negative bacteria and 1.69% were fungi. Of the total number of microorganisms, Pseudomonas aeruginosa was predominant with 27.11%, Providencia rettgeri / Proteus vulgaris with 18.64% and KONS / Micrococcus luteus with 16.94%. Pseudomonas aeruginosa was present in all three snake families, with 62.5% of the snake in the fam. Pythonidae; 50% in the fam. Boidae and 50% in the fam. Colubridae. The isolate Providencia rettgeri / Proteus vulgaris was most frequently found in the fam. Colubridae with 71.43%, followed by fam. Pythonidae with 12.5%, but was not isolated in any specimen of the fam. Boidae. The microbiome of the non-venomous snakes is composed of Gram-positive bacteria in healthy snakes, but also in snakes kept in inadequate hygienic conditions. Gram-negative bacteria were predominant, of which the most significant was the presence of multiple drug resistance Pseudomonas aeruginosa. Snakes as pets require proper knowledge of terms and conditions.
Downloads
Download data is not yet available.
References
1. Yak R, Lundin AC, Pin PY, Sebastin SJ. Oral bacterial microflora of freeliving reticulated pythons (Python reticulatus) in Singapore. J Herpetol Med Surg 2015;25:40-44.
2. Weed HG. Nonvenomous snakebites in Massachusetts: prophylactic antibiotics are unnecessary. Ann Emerg Med 1993;22(2):220-224.
3. Blaylock RSM. Normal oral bacterial flora from some southern African snakes. Onderstepoort J Vet Res 2001;68(3):175-182.
4. Janda JM, Abbott SL. The genus Aeromonas: taxonomy, pathogenicity, and infection. Clin Microbiol Rev 2010;23(1):35–73.
5. Liu PY, Weng LL, Tseng SY, Huang CC, Cheng CC, Mao YC, et al. Colistin Resistance of Pseudomonas aeroginosa Isolated from Snakes in Taiwan. Can J Infect Dis Med Microbiol 2017; 2017:1–5.
6. Jho YS, Park DH, Lee JH, Cha SY, Han JS. Identification of bacteria from the oral cavity and cloaca of snakes imported from Vietnam. Lab Anim Res 2011;27(3):213–217.
7. Sujogya Kumar Panda, Laxmiprya Padhi, Guananidhi Sahoo. Oral bacterial flora of Indian cobra (Naja naja) and their antibiotic susceptibilities. Heliyon 2018;4(12): e011008
8. Krishnankutty SP, Muraleedharan M, Perumal RC, Michael S, Benny J, Balan B, et al. Next-generation sequencing analysis reveals high bacterial diversity in wild venomous and non-venomous snakes from India. J Venom Anim Toxins incl Trop Dis 2018;24(41).
9. Artavia-León A, Romero-Guerrero A, Sancho-Blanco C, Rojas N, Umaña-Castro R. Diversity of Aerobic Bacteria Isolated from Oral and Cloacal Cavities from Free-Living Snakes Species in Costa Rica Rainforest. Int Sch Res Notices 2017;2017:8934285.
10. Jho YS, Park DH, Leo JH, Lyoo YS. Aerobic bacteria from oral cavities and cloaca of snakes in petting zoo. Korean J Vet Res 2011;51(3):243-247.
11. Baron RS. Chapter 27: Pseudomonas. In: Iglewsk BH, editor. Medical Microbiology, 4th ed. Galveston: University of Texas Medical Branch and Galveston 1996..
12. Quiroga M, Avila-guero M., Faiongezicht I. Abscess secondary to facial snake bite. J Venom Anim Toxins 2000; 6(2):261-270.
13. Abrahamian FM, Goldstein EJC. Microbiology of animal bite wound infections. Clin Microbiol Rev 2011;24(2):231-246.
14. Lin D, Foely SL, Qi Y, et al. Characterization of antimicrobial resistance of Pseudomonas aeruginosa isolated from canine infections. J Appl Microbiol 2012; 113(1):16-23.
15. Wagener M, Naidoo M, Aldous C. Wound infection secondary to snakebite. S Afr Med J 2017; 107(4):315-319.