Case Report
Spontaneous rectus sheath hematoma– cause of acute abdomen in patients on anticoagulant therapy: two case reports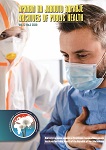 Published 2020-07-16
Keywords
spontaneous hematoma

,

rectus sheath

,

abdominal pain

,

management
How to Cite
1.
Petreski D, Cokleska N, Todorovic L, Kamiloski M, Memeti S, Donev L, Mikjunovikj L. Spontaneous rectus sheath hematoma– cause of acute abdomen in patients on anticoagulant therapy: two case reports. Arch Pub Health [Internet]. 2020 Jul. 16 [cited 2023 Dec. 9];12(2):71-80. Available from: https://www.id-press.eu/aph/article/view/5194
Abstract
(Spontaneus)  Rectus sheath hematoma ((S)RSH) is an accumulation of blood in the sheath of the rectus abdominis muscle, secondary to rupture of an epigastric vessel or muscle tear. It is defined as spontaneous in patients without history of abdominal trauma. It can be located supra- or infraumbilically. Although the exact incidence is unknown, Klingler et al. observed 23 cases (1.8%) of rectus sheath hematoma among 1257 patients evaluated by ultrasound for acute abdominal disorders.  Ultrasonography can help in the diagnosis, but CT scan is most accurate in its ability to define the lesion. When diagnosed clinically, a conservative therapeutic program can usually be instituted. Only in cases of supportive management failure, progressive and large hematoma or uncontrollable hemodynamic patients, interventional management including surgery or less invasive newer techniques is indicated. Case presentation: We present two cases of SRSH in patients using oral anticoagulant agent (acenocoumarol). Their chief complaint was sudden onset of acute abdominal pain. On admission they were haemodynamically stable. After thorough clinical evaluation a suspicion for SRSH diagnosis was made and then confirmed by ultrasonography and CT. Both of them were successfully treated conservatively and discharged home in a good general condition. Conclusion: These two cases illustrate the accurate diagnosis of SRSH treated conservatively leading to optimal patient outcomes.
Downloads
Download data is not yet available.
References
1. Hershfield NB. The abdominal wall. A frequently overlooked source of abdominal pain. J Clin Gastroenterol 1992; 14(3):199-202.
2. Manier JW. Rectus sheath hematoma Am J Gastroenterol 1972; 57: 443-452
3. S.B. Richardson. Rupture of the right rectus abdominis muscle from muscular efforts: operation and recovery, with remarks. Am J Med Sci 1957; 33: 41-45.
4. Siu WT, Tang CN, Law BK, Chau CH, Li MK. Spontaneous rectus sheath hematoma. Can J Surg. 2003;46(5)-390.
5. Werdehoff SG, BlomkainsAL. Rectus sheath hematoma [ www.eMedicine.com Web site; updated January 19, 2005]. Available at http://www.eMedicine.com. Accessed July 27, 2005.
6. Lambroza A,Tighe MK, DeCosse JJ, Dannenberg JA. Disorders of the rectus abdominis muscle and sheath: a 22-year experience. Am J Gastroenterol 1995; 90: 1313-1317.
7. Salemis NS, Gourgiotis S, Karalis G. Diagnostic evaluation and management of patients with rectus sheath hematoma. A retrospective study. International Journal of Surgery 2010;8(4):290–293.
8. Kapan S, TurhanAN,Alis H. Rectus sheath hematoma: three case reports. Journal of Medical Case Reports 2008;2(22).
9. Varol E, Özaydm M. Rectus sheath hematoma due to cough attacks in an elderly patient on oral anticoagulant therapy. Anadolu Kardiyoloji Dergisi 2007;7:235–236.
10. Titone C, Lipsius M, Krakauer JS. Spontaneous' hematoma of the rectus abdominis muscle: critical review of 50 cases with emphasis on early diagnosis and treatment. Surgery 1972; 72(4):568–572.
11. Miyauchi T, Ishikawa M, Miki H. Rectus sheath hematoma in an elderly woman under anti-coagulant therapy. The Journal of Medical Investigation 2001; 48(3-4): 216–220.
12. Hatjipetrou A, Anyfantakis D, Kastanakis M. Rectus sheath hematoma: a review of the literature. Int J Surg 2015;13:267–271.
13. Berná JD, Garcia-Medina V, Guirao J, Garcia-Medina J. Rectus sheath hematoma: diagnostic classification by CT. Abdom Imaging 1996;21(1):62–64.
14. Fitzgerald JE, Fitzgerald LA, Anderson FE, Acheson AG. The changing nature of rectus sheath haematoma: case series and literature review. Int J Surg 2009;7(2):150–154.
15. Cherry WB, Mueller PS. Rectus sheath hematoma: review of 126 cases at a single institution. Medicine (Baltimore) 2006;85(2):105–110.
16. Klingler PJ, Wetscher G, Glaser K, Tschmelitsch J, Schmid T, Hinder RA. The use of ultrasound to differentiate rectus sheath hematoma from other acute abdominal disorders. Surg Endosc1999;13(11):1129–1134.
17. Bober SE, Cohen HL, Setzen G, Garenani C. Rectus sheath hematoma simulating periappendiceal abscess. J Ultrasound Med 1992;11(4):179–180.
18. Lohle PN, Puylaert JB, Coerkamp EG, Hermans ET. Nonpalpable rectus sheath hematoma clinically masquerading as appendicitis: US and CT diagnosis. Abdom Imaging 1995;20(2):152–154.
19. Luhmann A, Williams EV. Rectus sheath hematoma: a series of unfortunate events. World J Surg 2006;30(11):2050–2055.
20. Ducatman BS, Ludwig J, Hurt RD. Fatal rectus sheath hematoma. JAMA 1983;249(7):924–925.
21. Moreno GA, Aguayo JL, Flores B. Ultrasonography and computed tomography reduce unnecessary surgery in abdominal rectus sheath hematoma. Br J Surg 1997;84:1295–1297.
22. Ozucelik DN, Neslihan Y, Emet M, Coskun S. Spontaneous rectus sheath hematoma presenting acute abdominal pain:a case series and review of the literature. Ann Saudi Med 2005;25(3): 250-254.
23. Osinbowale O, Bartholomew JR. Rectus sheath hematoma.Vasc Med 2008;13(4):275.
24. Teske JM. Hematoma of the rectus abdominis muscle: report of a case and analysis of 100 cases from the literature. Am J Surg 1946; 71:689.
25. Buffone A, Basile G, Costanzo M, Veroux M, Terranova L, Basile A. Management of patients with rectus sheath hematoma: Personal experience. J Formos Med Assoc 2015;114(7):647-51.
26. Gabel A, Muller S. Fatal hematoma during treatment with adjusted-dose subcutaneous heparin therapy. N Engl J Med 1999;340:61-62.
27. Alla VM, Karnam SM, Kaushik M, Porter J. Spontaneous rectus sheath hematoma. West J Emerg Med 2010;11(1):76-9.
28. Thomson H, Francis DM. Abdominal-wall tenderness: A useful sign in the acute abdomen. Lancet 1977; 2(8047):1053.
29. Fukuda T, Sakamoto I, Kohzaki S, Uetani M, Mori M. Spontaneous rectus rectus sheath hematomas: clinical and radiological features. Abdom Imaging 1996;21(1): 58-61.
30. Rimola J, Perendreu J, Falco J, Fortuno JR, Massuet A, Branera J. Percutaneous arterial embolization in the management of rectus sheath hematoma. AJR Am J Roentgenol 2007;188(6): 497-502.
31. Salemis NS. Spontaneous rectus sheath hematoma presenting as acute surgical abdomen: an important differential in elderly coagulopathic patients. Geriatr Gerontol Int 2009; 9(2):200.